Site Closing Feb 28th, 2017. 

Tools and Training for Serious Javelin Throwers
The Following Catalog Packages are available for PDF Download:
The Above Catalogs of Articles are available  for $49.99 USD. (Minus our online hall of fame) in a PDF Download. 
You can purchase them separately or with the Sequence Poster Package (physical posters).
Thank you for many great years of working on this great sport! I'll love Javelin forever.
Final day for purchase will be Feb 28th, 2017. NO REFUNDS
To purchase above PDF without Sequence Posters Click PayPal Button Below:
FINAL SALE, NO REFUNDS.
The Elite Series Sequence Posters
The Sequence Posters are One of a Kind (Yes, They're Real Posters). They Come with a Downloadable Full Manual & Report.
Once You've reached this part of the site, you'll be receiving exact thoughts and practices of Elite Javelin Throwers.
Have a Closer Look..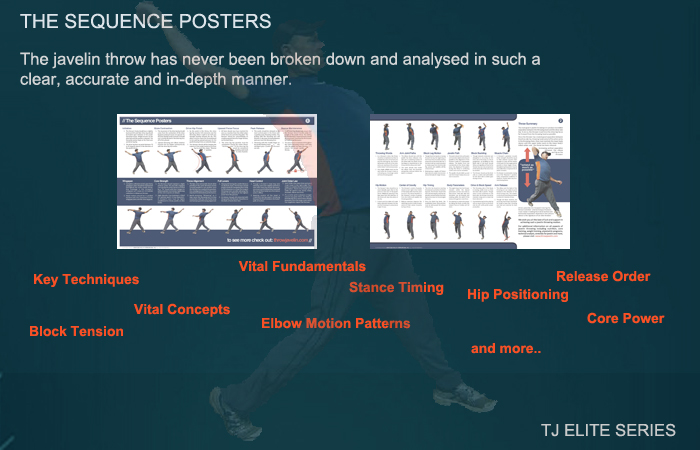 The Sequence Posters really are the only of their kind. They feature
the javelin throw motion from all four sides of a javelin thrower doing the right throwing
motion. Put them up on your wall and reference them because it is vital that you learn,
mimic and match your throwing motion to exactly what you see in these posters.
The positions in the posters are exactly what you see stretching out into the full throwing position. The
Secrets of this ultimate throwing position are in these posters. We've added additional
throwing manuals with coaching notes and massive pictures and diagrams to assure you learn
the elite javelin throw motion of world class throwers

The Elite Series is an advanced Javelin Throw Product Series.
Downloadable Training Manuals with full size pictures and diagrams, full size posters and more come with this series. The
Series was developed on the teachings of Jan Zelezny, Steve Backley, Seppo Raty and Gavin Lovegrove and Trevor Bradley.
Bradley spent years training and learning javelin throwing with the men's Javelin Throw World Record Holder and alike.
There is no other source that goes this into depth online to date regarding how Jan Zelezny and his
fellow competitors figured out just how to throw the javelin just that far.
Final day for purchase will be Feb 28th, 2017. NO REFUNDS
Please note there are 63 sequence poster packages left. Please order now.
To purchase above Site Content PDF with the Sequence Posters  Package for $89.00, Click PayPal Button Below:
FINAL SALE, NO REFUNDS.
PAYMENTS PROCESSED BY FS FUNCTIONAL FITNESS STUDIOS INC.